When you hire us as to do SEO for you, we make the necessary changes to a website in order to achieve top rankings in the major search engines.
Our SEO team at iJoomla is a group of highly skilled Joomla SEO professionals that live and breathe search engine optimization. We stay ahead of the trends so that our clients benefit first. There is no greater sense of accomplishment than seeing our clients dominate their competition online.
More about our Joomla SEO Service:
iJoomla offers a full range of Joomla SEO services designed to win the largest amount of organic traffic from search engines in the shortest time possible.
Phase 1: Analysis
Analysis – We analyze your site's current SEO, estimate your site's potential on the web, set up goals and produce a practical strategy.
Duration: 1 WEEK
Cost: $1,000
Deliverables: A document containing the analysis plus the recommended steps, time frames and costs to achieve the goals.
The Analysis Phase consists of:
Goal setting
Potential assessment
Competitor analysis
Niche evaluation
Keywords review
Content evaluation.
Listing alternative methods to achieve goals, such as social media and targeted directories.
How it works:
Purchase our SEO analysis service (click the button below to purchase)
We will immediately send you a questionnaire and ask you some important questions about your site
Fill out the questionnaire
Within a week you will get a full report with the results.
Phase 2: Execution
Duration
Cost: 1 to 6 Months: $1,000-$10,000
Deliverables: Completion of the goals listed in Phase 1.
Based on the analysis and the goals that were established in Phase 1, we implement a variety of techniques to reach targets, and report the results.
The following are examples of actions we take in order to achieve your SEO goals:
Fix development flaws in respect to SEO.
Optimize meta tags.
Optimize content with appropriate keyword density.
Optimize images.
Phase 3: Maintenance
Duration: Monthly, Contract Based
Cost: $250-$1,000/Month
Results: Constant improvement of your SEO achievements.
SEO is an ongoing effort. Once you complete the initial basic steps, it's highly recommended to have a maintenance plan to keep the results you've achieved and continue to improve your ranking.
The purpose of the following activities is to increase your site's visibility and win as many backlinks to your site as possible — an essential element in ranking higher on search results.
We offer 3 maintenance packages, pick the one that works for you!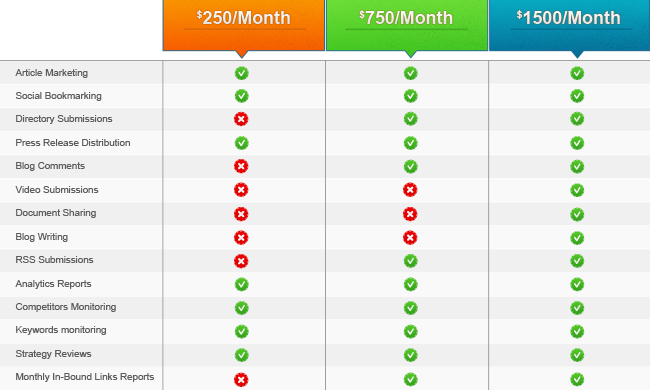 Article Marketing – We submit all your existing articles to directories/news agencies.
Social Bookmarking – We add links to your articles on your social media pages (Facebook, Twitter, Google +).
Directory Submissions – We submit your website to specialized directories.
Press Release Distribution – Every time you launch a new product, we send a newsletter/press release to specialized agencies for distribution.
Blog Comments – We add comments with backlinks to specialized blogs from your industry.
Video Submissions – We submit your videos to video sites like YouTube, with a link inside the description to redirect viewers back to your site.
Document sharing – We upload and share your information/advice documents to document sharing sites such as scribd.com.
Blog Writing – We write blog posts for you based on keyword research.
RSS Submissions – We submit your RSS feeds to RSS directories.
Analytics Reports – We send you an analytics report to let you know where you stand with your SEO.
Competitors Website Monitoring – We monitor the activity of your competitors' websites such as changes in their structure, article activity and keywords.
Keyword Monitoring – We monitor the activity on local and global searches of every keyword/phrase of the website.
Strategy Reviews – Every month we review each keyword/phrase and make any changes necessary.
Monthly Inbound Links Reports – Inbound links are an essential element of website marketing and search engine optimization programs. With our Monthly Reports you will be able to see which of the links brings traffic to website.